北京オリンピック「鳥の巣」の設計ユニットとして一躍注目されている
Herzog & de Meuronが手掛ける「56 Leonard Street」
NY,Tribecaで建設がスタートしたばかりですが、
完成すると58階建て、高さ243mとNY高層ビルランキングでは15位となる超高層レジデンスタワーが出現します。
因みに1931年竣工のエンパイアステートビルが現在のランキング1位というのが意外でした。
NYのブロガー達はあたかもジェンガを連想させる外観に賛否両論を展開していますが、エントランス部分のAnish Kapoorによる大型スカルプチャー以外からは
個人的にあまりクリエイティビティを感じません。
それにしても、NYには建設中や計画が発表されたスターアーキテクトによる超高級コンド案件が目白押しですがLehman Brothersの破綻に象徴される経済状況の中、今後の動向が気になります。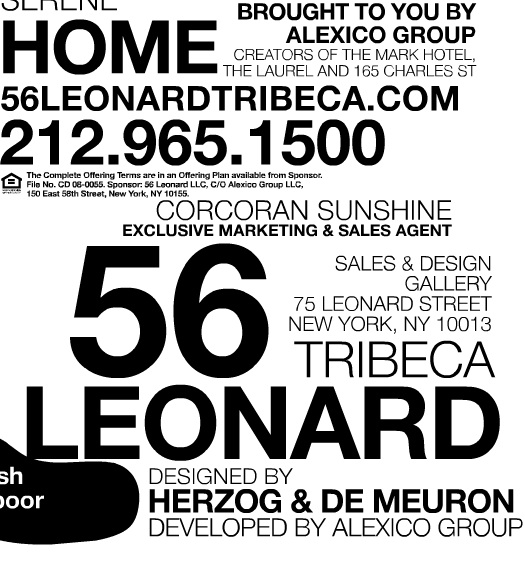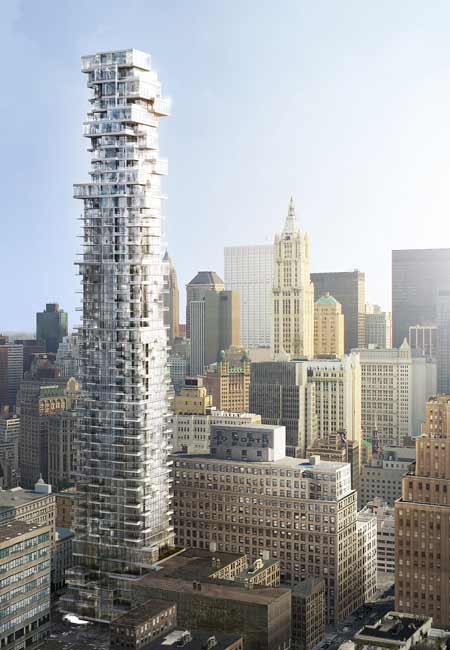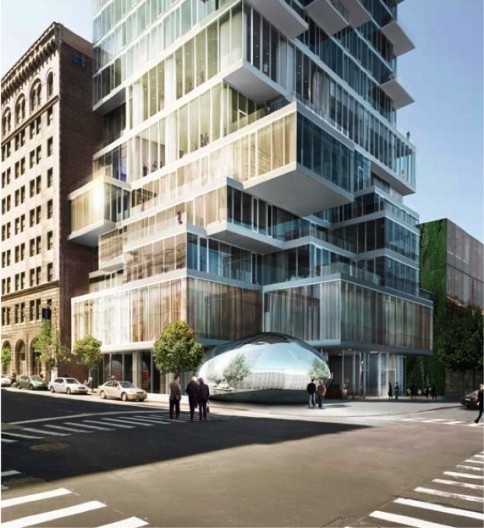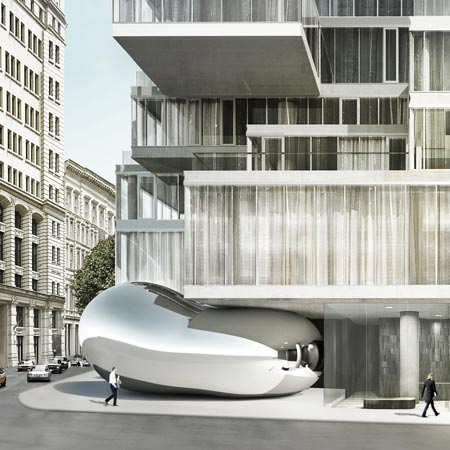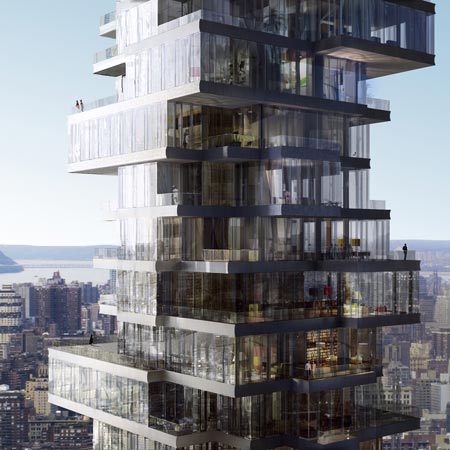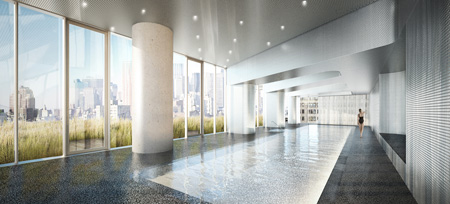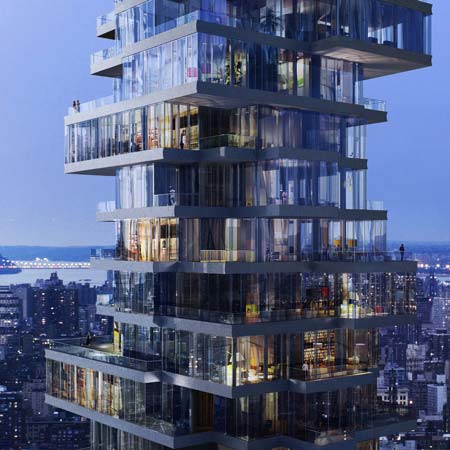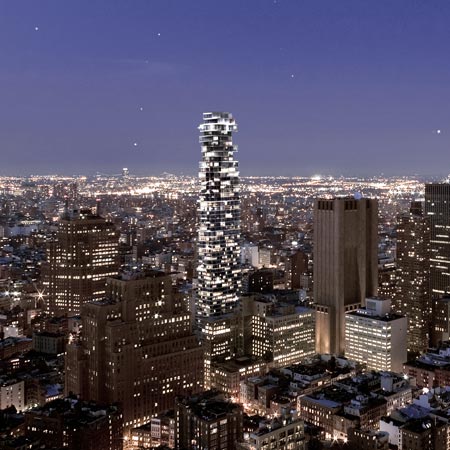 CONSTRUCTION BEGINS ON HERZOG & DE MEURON'S 56 LEONARD STREET
Since its formation in 1978, the Basel, Switzerland-based architecture firm of Herzog & de Meuron has achieved international renown for buildings — houses, libraries, schools, stores, museums, hotels, factories, arenas — that strike an uncanny balance between strict refinement and pure invention, practicality and the sublime.
Their recently completed Beijing National Stadium in China, for billions of worldwide spectators the single most enduring image of the 2008 Olympic Games, has redefined the sports arena for the future, while museums like the Tate Modern at Bankside in London and the de Young Museum in San Francisco ambush expectations of what makes a building ideal for art.
With such commissions, Herzog & de Meuron has aimed not for virtuosity but innovation, looking always to the broader culture and art for inspiration. Referring to Andy Warhol, Jacques Herzog has said, "He used common Pop images to say something new. That is exactly what we are interested in: to use well known forms and materials in a new way so that they become alive again."
On the threshold of its fourth decade, Herzog & de Meuron is poised to reinvent another great architectural prototype as construction begins in New York City on the first hi-rise tower of the firm's career. 56 Leonard Street will be a 57-story residential condominium building at the intersection of Church Street and Leonard Street in the Tribeca Historic District of downtown Manhattan, where it will rise above cobbled streets and historic 19th century neighbors.
The tower will house 145 residences, each with its own unique floor plan and private outdoor space, in a veritable cascade of individual homes that the architects describe as "houses stacked in the sky," blending indoors and outdoors seamlessly together.
With its articulated surfaces, dramatic cantilevers, profiled slab edges, profusion of balconies, expanses of glass, and views from downtown Manhattan to as far as the Atlantic Ocean, Herzog & de Meuron's 56 Leonard Street breaks down the old image of the high-rise as a sleek, hermetically sealed urban object to propose instead a thoughtful, daring and ultimately dazzling new alternative — the iconic American skyscraper re-envisioned as a pixilated vertical layering of individually sculpted, highly customized, graceful private residences opening to the atmosphere.
The architects' design for 56 Leonard Street also updates the relationship between private tower and public streetscape with an articulated base whose cantilevers generate a sense of movement and permeability. Here, the building's defining corner will be the site of a major commissioned sculpture by internationally celebrated London-based artist Anish Kapoor.
Fully integrated into the architecture itself as if to say that culture and the city are indivisible, Kapoor's massive, reflective stainless steel piece – an enigmatic balloon-like form that appears to be combating compression from above – will be a new cultural landmark in Tribeca and the artist's first permanent public work in New York City.
Kapoor's sculptural contribution to 56 Leonard Street extends his ongoing exploration of physical and psychological space, as in such works as the "Cloud Gate" in Chicago's Millennium Park and the recent mammoth temporary installation "Sky Mirror" at Rockefeller Center in Midtown Manhattan.
Homes available at 56 Leonard Street will range in size from 1,430 square feet to 6,380 square feet, and will include two- to five-bedroom residences and 10 penthouses. Prices for the residences at 56 Leonard Street range from $3.5 million to $33 million.
56 Leonard Street has been developed by Izak Senbahar and Simon Elias of Alexico Group LLC, New York City, developer of such acclaimed Manhattan projects as The Mark by Jacques Grange and 165 Charles Street by Richard Meier.
Costas Kondylis & Partners of New York City is serving as executive architect for the building. Construction manager for 56 Leonard Street is Hunter Roberts, New York City. Exclusive sales and marketing agent for the project is Corcoran Sunshine Marketing Group.
Occupancy at 56 Leonard Street is anticipated in late fall 2010.
"We are extremely pleased and honored to be able to create a tower of true global character at a moment when great architectural ferment is reshaping New York City," said Izak Senbahar of Alexcio. "With 56 Leonard we aspire to make a unique contribution to the fabric of our town with a building that relates directly to the city but is also an outstanding international address."